Jim Paluch is known as a motivational novelist whose books have touched thousands around the world with life-changing stories that have been deemed "riveting," "spell-binding," and "heart-warming" and are referred to as "inspirational classics."
Five Important Things
A Motivational Novel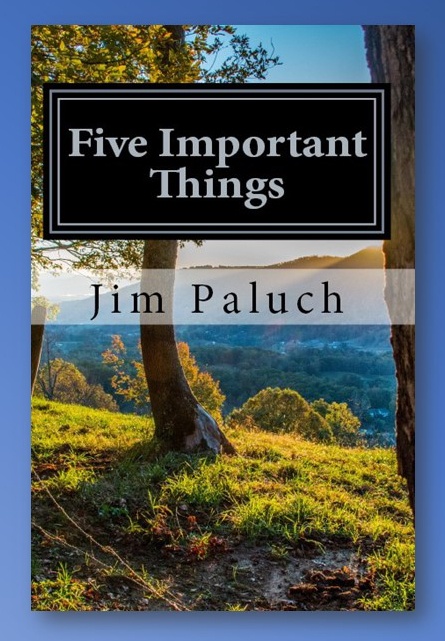 Eric Carlton had everything going for him, a dynamic personality, a successful career, a wonderful family, and an incredible future. The very principles that led him to success, however, were the first things he forgot as he began his entrepreneurial venture.
Now, as his family watched in terror, Eric fell to the floor and slipped into a mysterious sleep that would baffle the doctors, and take him on an unforgettable journey through his past, drawing him again to the secrets of success that had helped him through the years.
Eric's greatest discovery comes when he realizes he has not finished the writing that would complete his "Black Book of Dreams" containing the Five Important Things.
Five Important Things is a fast-paced, energy-packed book that explains why success is simple. By learning and focusing on the Five Important Things: continue to learn, appreciate people, set goals, develop a positive attitude, and don't quit, individuals will appreciate the importance of applying each of these vital success principles to their own lives.
Leaving a Legacy
An Inspirational Guide to Taking Action and Making a Difference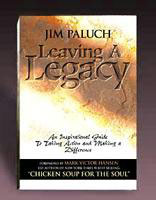 Something magical happens when 7 characters from every walk of life decide they can make better use of their time as they sit around McDonald's every morning, by sharing the wisdom they've gained through the years rather than their disappointments and complaints with life. As they learn the magic of the redbud tree and rally to help a little crippled boy, wonderful things begin to happen. Seven great pieces of wisdom are shared with the reader as the characters start a movement of senior citizens across the country that literally changes everyone's perception of aging. In this heart-warming, life-changing story, readers young and old will realize it's never too early or late to apply wisdom, take action and make a difference.
In this unforgettable presentation, Jim Paluch leaves each person present with the heartfelt conviction that we can each leave a legacy. By focusing on seven wise choices:
Making the best use of your time
Keeping the desire to smile
Seeing life as it really is
Facing the dragon within
Appreciating the value of hard work
Finding inspiration in everything
Having the courage to take action
Growing Dreams
A novel easily guiding you through the adventures of business with the ultimate goal of success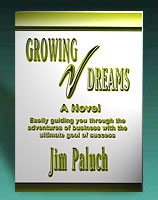 GROWING DREAMS is very, very, very, unique. It follows the example of the early 20th century authors who presented their books first in series form in the best magazines of that era. GROWING DREAMS was first presented as a series of articles in PRO and chronicles two young brothers, Oscar and Curtis, and their quest to own a prosperous professional landscape company. The series was so well received that it has prompted Paluch to compile the first novel ever written with a landscape company as the backdrop. GROWING DREAMS is full of content and practical ideas as it systematically introduces the concepts of ORGANIZATIONAL EXCITEMENT, a blueprint for every owner to use to ENERGIZE their company and team.